Possum Trap – Catch and release possum removal cage from Pestrol
Get rid of possums humanely with Australia's #1 selling and toughest Possum Trap! Pestrol has over 20 years of experience supplying chemical-free and humane pest control solutions in Australia. Our specifically designed possum trap ensures possums or any animals don't get injured when caught.
Unfortunately, many cheaper traps have sharp edges on the trip plate that can cause harm to the animal you are trying to relocate and as a result, defeat the purpose of humanely trapping and relocating possums.  The last thing the animal needs is extra stress or to be hurt when caught because this could further reduce the possum's chances of safely relocating to another location.
If you have any questions, please contact us on our free call number 1800 33 88 88 and we will happily assist you with your general questions about possum relocation.
Use the Pestrol Possum trap to humanely remove troublesome possums
The Pestrol Possum Trap offers an effective solution for humanely trapping annoying possums. Our Possum Removal Trap is safe for both humans and possums. Furthermore, all Possum Cages are built super tough, professional standards and offer the highest quality features in Australia including:
Size: 66 x 26 x 25cm
Weight: 3.342g
Wire mess thickness: 2.5mm
No injuries.
Very easy to bait.
Assembles in seconds – no need for additional tools.
Easy to transport and release possums back into the wild.
Extra fine mesh around the bait area to ensure they don't get the food without entering the trap.
The strongest possum traps on the market in Australia.
The handle is shielded so it can protect you when transporting the possum back into the wild.
This possum trap is not powder coated. After years of manufacturing possum traps, the only way for long-lasting durability is to have our traps made with galvanized wire with a matte finish.
Instructions to assemble the Pestrol Possum Trap.
The possum cage trap arrives folded flat – instructions included show that this trap easily folds into position and is ready for action. Possum removal has never been so easy.
There are cable ties that need to be cut to allow the possum trap to expand open.
Hold the possum trap by the handle. Gravity will assist as the possum trap falls into place. Ensure both doors at either end are pushed down.
There are 2 "U" shaped supporting arms. They must be pushed down to ensure the possum traps are secured into shape.  The fixing clips can be squeezed with your hands to ensure they are locked in tight.
The final step is connecting the curved bottom end of the Trip Plate Rod to the floor plate.
The rear door can be locked by using the additional "U" shaped wire.
Simple tips for effective use of our possum traps.
The possum trap should be placed on a flat service.
When baiting the possum, ensure that the food is placed beyond the trip plate (Please do not place food on the trip plate). This can be achieved by using the rear door.
Make sure to camouflage the possum cage with surrounding leaves/twigs etc. Ensuring the material doesn't affect the operation of the possum removal.
Finally, ensure you check the possum trap daily to ensure the well-being of the caught intruder.
What is the Possums Favourite Food
Possums eat a variety of different foods such as rodents, insects, worms, etc., however, they also like canned pet food, apples, bananas, and even bread are our recommendations for the best possum bait. So, go for anything you have in your kitchen pantry and you will certainly get great results.
Pestrol has larger possum cages and traps for foxes.
Fun Possum Facts
There are 23 possum species in Australia, the most common species are the common ringtail possum and the common brushtail possum.  Possums are also native to Papua New Guinea and they have introduced species into NZ and China. Possums are nocturnal marsupials and love to live in hollowed out trees or up high in nests that they build in bushes or trees. Generally, they are mainly herbivores but are also known to eat insects and birds eggs. Possums can be a massive problem in Australia, not only from the noises they can make on our roofs but can have devastating effects on native trees by eating leaves, flowers, and fruits. Not to mention our own trees and vegetable patches.
Frequently Asked Questions:
What can I do to keep possums away?
It will depend on where you have a possum problem.  If the possum has made a home in your roof, then first you will need to remove it from the roof area.  You can do it with the help of a Possum Trap or with a Possum repeller.  If you are using a possum trap, make sure to seal the area where you think possums are gaining entry into the roof area.  This will stop Possums from coming back.  If you are having a problem in your garden, where they can often create problems, then you have a couple of options:  One, is a possum repeller, that you can point in a direction where the possums normally are.  Another option can be a possum nesting box.  By creating a home for a possum further away, will make sure for the possum not to return to your home.
Do Possums bite?
Possums are normally docile animals, and will not attack a person.  However, if they feel threatened and think they are under attack, then they will defend themselves and might attack.
Do possums carry disease to humans?
Possums sometimes can be infected with the disease, such as tularemia, in particular, ringtail possums. If the person gets scratched by an infected possum, it can transfer the disease.  The symptoms include skin ulcers, irritation, and swelling of the eyes and lymph glands, sore throat, cough, and chest pain.  If you have been scratched by a possum, see your doctor.
There is also has been an increase of cases of Buruli ulcer, it is a flesh-eating disease, which is very dangerous and is spread through mosquito bites or directly through possums.  You can read more about it here.
What should I do if I get bitten by a possum?
Make sure to dry the wound and apply antibiotic ointment.  If it is an open wound, make sure to see your doctor.
WARNING: PLEASE CONTACT THE RELEVANT AUTHORITY IN YOUR STATE FOR REGULATIONS REGARDING THE TRAPPING OF POSSUMS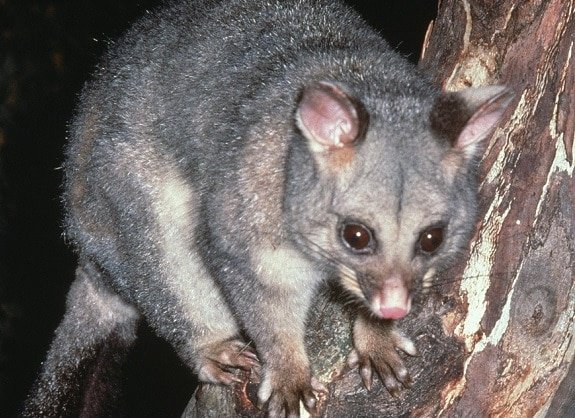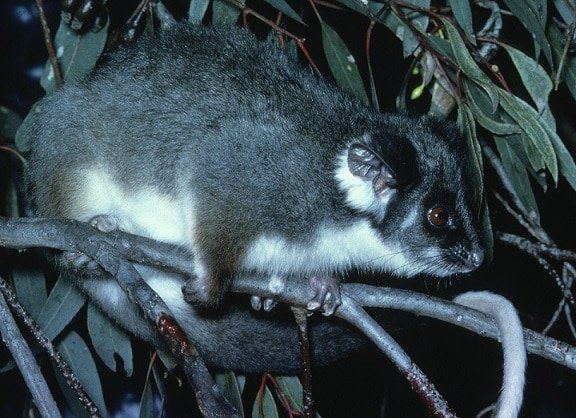 Common Brush Tail and Ring Tail possum