Zip Pay – Buy now and pay later
Zip Pay is an interest-free buy-now-pay-later payment system with a maximum credit limit of up to $1000. Zip Pay is now one of the most used and popular payment systems in Australia. People used to be doubtful about yet another instalment based payment system but slowly yet surely Zip Pay is gaining people's trust.
Since people trust Zip Pay now more than ever, we have included it as one of our payment systems. So, what are you waiting for? Buy our product now and pay later!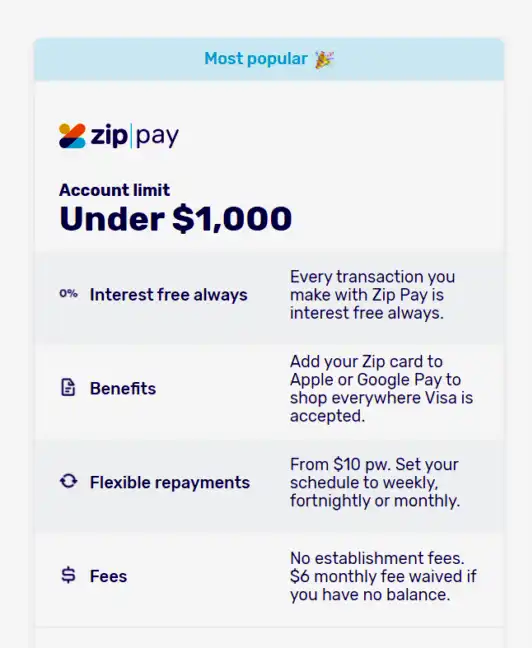 Can I use Zip Pay anywhere?
Zip Pay is accepted in many big online and physical stores including JB Hi-Fi, Amazon, BigW, Target, Harvey Norman, Woolworths and Uber Eats. So, even if you open a Zip Pay account to purchase our product, you can use it anywhere afterwards.
Is Zip Pay same as a credit card?
Zip Pay is technically a credit card with no interest and a minimum credit limit of $1000. However, you do not have to worry too much about this one as the repayment is flexible and easy.
Is there a monthly fee for Zip Pay?
If you have an outstanding balance, then only Zip Pay deducts $6 as a monthly account keeping fee. If you pay your balance by the due date, Zip Pay waives the account fee.
Is Zip Pay secure?
Zip Pay uses advanced Secure Socket Layer (SSL) encryption and has partnered with global leaders in fraud prevention.
Can I close the Zip Pay account if I want to?
Yes, you can easily close the account if you do not owe balance payment, simply by contacting Zip.
Zip gives you the freedom to buy the things you love today. No-fuss, no wait, no worries.
Shop at all your favourite places
Set your own repayments
Apply in minutes