Fence Spikes – Humane Cat and Possum Repelling Spikes
Pestrol Fence Spikes are the popular way to remove the annoyance of troublesome animals without harming them. Cat and Possum Repelling Spikes can be easily installed within a couple of minutes per piece.  With our spikes, it will keep any unwanted pest from your backyard or garden.
Every garden and backyard is different and will require different installation, our spikes can be easily adjusted to the required length to fit any purpose.
The studs on Pestrol Cat and Possum Repelling spikes are cones of polypropylene, this means that they are sturdy and reliable, weatherproof and flexible.  Once installed, Pestrol spikes will last a lifetime.  Pestrol prevention spikes will not cause any harm to animals. 
Dimensions:
Length  50cm
Width – 4.5cm
Height  – 2cm
Weight – 104g
Can be used for:
roofs
signs
walls
fences
gates
poles
posts.
Made from UV resistant PVC material and can be painted to fit in with any existing outdoor colour schemes.
Start repelling and protecting your outdoor areas today.
If you need to purchase adhesive for fence spikes installation, please click here.
Which Pestrol plastic fence and wall spike is right for me?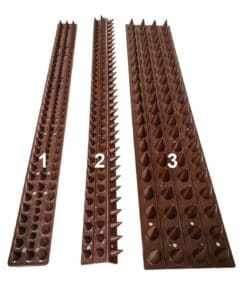 3 Different Pestrol Deterrent Spikes:
Narrow – flexible Lengthwise only. – Easily separated through 4 breakpoints; making it easier for flat surface installation.
2: Flexible Fence and Wall Spikes
Narrow – Flexible Lengthwise and Widthwise – Great for bending along the contour of a shaped surface. Can also be separated into 3 long pieces.
3: Large Fence and Wall Spikes
Significantly wider – Has the same qualities as spike 2; only larger with 1 extra row of spikes. Great for covering larger areas. (Just released)