Fox Deterrent – Fox Lights
Our fox deterrent uses lights for repelling foxes and other meat-eating predators that lurk around your property. The Fox Lights are used to scare and repel foxes humanely and quickly.
How to get rid of foxes is a question many people have been asking: Well the Foxlights are the most advanced non-lethal method of controlling and repelling night predators. Proudly Australian designed for Australia conditions, this fox repeller has been proven for many years and has recently been updated with our solar version.
Proudly Australian designed.
How the Fox Repeller works:
The fox thinks the flashing lights are humans. They are used to hunters shining lights at them and pick this up as danger. The lights flash at random intervals to ensure the fox doesn't get use to the light pattern.
Also works on wild cats / wild dogs.
Great for protecting livestock.
Customers use the fox repeller around:

lambs
poultry
goat kids
ducks
geese
piglets
pet protection.

Battery operated. Powered by a rectangular six-volt battery. (not supplied) – lasting about up to 12 months.
There are 9 long-life LED lights on the Fox Lights unit that flash and move all different directions and with different colours.
No on/off switch. A light sensor allows the unit to only work at night time.
Waterproof O-ring seals to protect the internals from all weather conditions.
12-month warranty
30-day money-back guarantee.
Best placed up off the ground to ensure the unit can easily be seen by all predators.
Easy to set up.
Set and forget.
15.5cm high x 14cm wide.
6V Battery Required
Consider the new Solar Powered Fox Deterrent.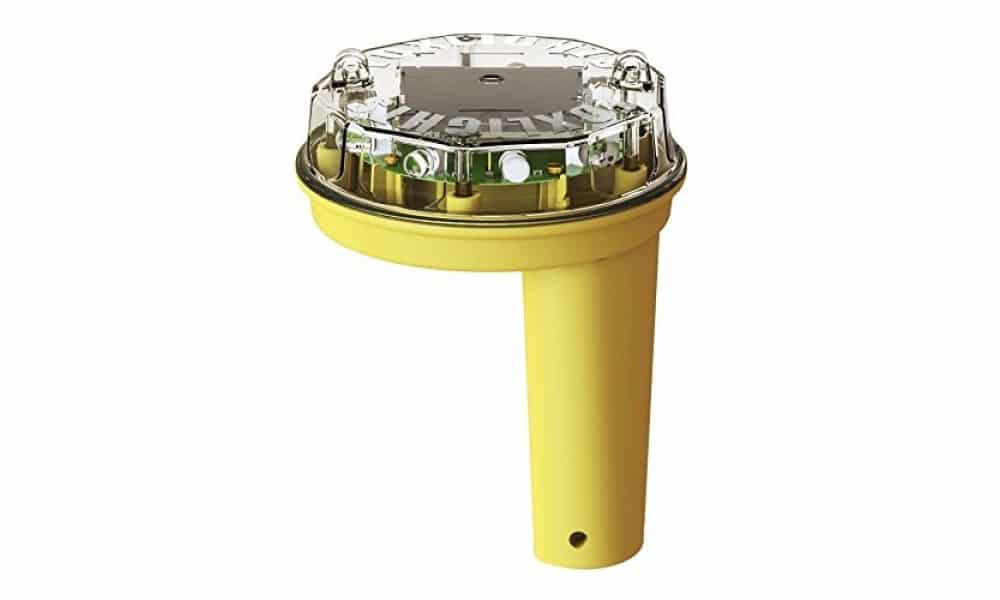 Key benefits:
The fox light is projected at 360 degrees and can be seen for a distance of up to 2km
Works well in conjunction with our Solar Animal Away Elite
A night sensor automatically turns the unit on at dusk and off at dawn
Made using the highest grade UV sun protected materials
Easily mountable or even hung on a tree.