Spider Catcher
Grab spiders with our easy to use Spider Catcher and take them outside for release.  Humane, effective, fun and a less scary way to deal with unwanted intruders in your home.
So many of us are scared of spiders, Spider control is now easier than ever, its time to look a lot tougher in front of your partner
To pick up the spider you need to do the following:
The standard insect remover is 65cm in length. We have a shorter smaller remover at 40cm.
1 – Squeeze the handle or lever so the plastic bristles open.
2 – Position the open bristles over the insect you wish to capture.
3 – Swiftly release the handle so the bristles close.
4 – Pull the captive insect away from the surface
5 – To release the insect squeeze the lever so the bristles reopen.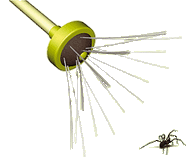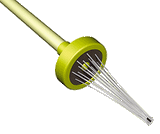 Dimensions
Size: 65 x 18 x 2cm
Weight: 211g
Check out Pestrol's full range of Spider Control Products