Electric Bug Swatter
If you are looking for the best Electric Bug Swatter on the market in Australia. Look no further, our team at work have been using this product over the last 12 months and we love it.
This insect zapping racquet works best on:
Mozzies
Flies
Midgies
Small moths
Spiders
Other small flying insects.
Features:
1 Swatt is only required to kill any small flying insect.
Ultra-fast USB charging and LED lighting system on the racquet to assist with finding insects in the dark.
Handy removable flashlight.
Extra safety, our triple-layer safety design is unique.
No chemicals.
Pestrol is a company that prides itself on using chemical-free products and not hurting animals in any way. However, when it comes to mosquitoes and getting a good night's sleep, unfortunately, the sound of zapping the mosquito is gratifying. Look at our full range of Mosquito Traps, especially our Sleep Easy Mosquito Trap if controlling mosquitoes is your thing.
The ultimate Insect Zapper, Bigger, Stronger, Better
How to use your Electric Bug Swatter from Pestrol:
Push the On/Off Switch to 'ON', the product is on standby.
Keep pressing the 'Zap' Button, the indicator light will turn on, the swatter will be ready to zap the bug.
Push the Switch to 'Lightswitch', and the Front LED Light will turn on and allows you to use it in the dark.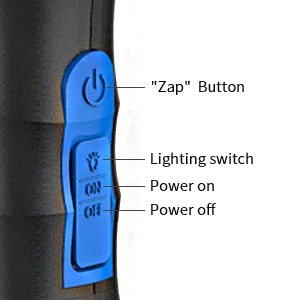 Warning:
This product is not a toy.
Only responsible adults should use the electric fly swatter.
Never touch the internal zapping grid.
Don't hit anyone or immerse the unit in water.