Pestrol Rodent Free is an Electronic Rodent Repeller, which combines 3 Technologies, Electromagnetic, Ultrasonic and Ionic to repel rats, mice and cockroaches from your home.
CREATED IN AUSTRALIA – As advertised on talkback radio and TV Australia wide.  New design with improved technology.
SAFE & ENVIRONMENTALLY FRIENDLY – Pestrol's Electronic Rodent Repeller is Chemical Free, Harm Free and Odor Free to humans and pets.  Will not interfere with household appliances. Meets all Australian electrical standards. 100% Safe!
EASY & CONVENIENT TO USE – Simply plug Electronic Rodent Repeller in and the unit will utilize your wiring to spread the signal through your house. Pestrol Rodent Free covers walls, ceilings, and open spaces.
100% MONEY BACK GUARANTEE – 2 Year Manufacturing Warranty.  Full refund within 100 days.  In business for over 22 years.  We stand by our products!  We provide customer service that cares and when needed is willing to take the extra steps for you to succeed.
HOW DOES IT WORK? 
ELECTROMAGNETIC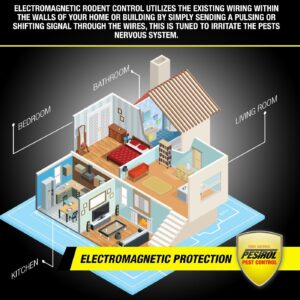 Electromagnetic Rodent Repeller utilizes the existing wiring within the walls of your home or building by simply sending a pulsing or shifting signal through the wires, this is tuned to irritate the pests nervous system. The signal is turned on and off at set intervals so the rodents and cockroaches will not build up a tolerance. Electromagnetic vibrations from the unit are picked up by the rodents and cockroaches. Making it difficult or impossible for them to gather food, breed and build their nests, and communicate with each other. As a result, your home becomes an extensive pest repeller and all rodents and cockroaches will want to escape and stay away.
Scientific Studies: (Our Pestrol team continually looks at ways of improving the technology and we make continual adjustments to our product to deliver you with the best results!)
2003 research by Professor Danthanarayana an Emeritus Professor of Zoology at the University of NEW England, who has 42 years experience as a Zoologist.  This research affirms the findings and conclusion that the food and water consumption of rodents are adversely affected by electromagnetic pest control devices.
2002 study performed by Genesis laboratories in Colorado USA, which shows the ability of the electronic repellent device to repel certain pests in controlled environments.  The study shows: 'the feed consumption patterns offer the strongest indication that the wild mice were, in fact, reacting to the device.  The females in particular displayed feeding patterns consistent with the hypothesis that they were avoiding the signal.  The responses of both sexes of mice when the signal location was reversed in phase 2 also suggest s the mice were aware of the signal.  The feeding pattern clearly changed in conjunction with the signal relocation".
H.Shytel Glover cockroach test, 1997: "The Electromagnetic device is not only effective in repelling roaches but after removal has a residual effect for approximately 30 days".  The result from the tests showed successfully repelling rodent from the protected area
ULTRASONIC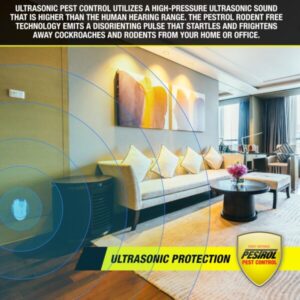 Ultrasonic pest control utilizes a high-pressure ultrasonic sound that is higher than the human hearing range. The Pestrol's Electronic Rodent Repeller technology emits a disorienting pulse that startles and frightens away cockroaches and rodents from your home or office. Using a variable pulse generator, Pestrol Rodent Free emits fluctuating sound waves so pests don't get accustomed to the sound. The Pestrol's Electronic Rodent Repeller will need to be plugged into a powerpoint approximately 0.2 meters from floor level in order for the ultrasonic to run along the ground, living rooms and hallways. Ensure the unit is placed in an unobstructed area for the ultrasonic waves to achieve maximum coverage- ultrasonic waves do not pass through solid objects and or turn, bend around corners.
Scientific Studies:
Kansas State University: did an in-depth examination providing its appeal.  The review stated:  "confirmed that ultrasonic sound products do have both a repellent result as well as a reduction in mating and reproduction of a variety of insects."
The University of British Columbia by John P.J Pinel – a thorough investigation was done to evaluate the possibilities of using a device that emits high-intensity, ultrasonic sound to control rat populations.  The study found "that a signal administered at only 96db was as noxious to rats as a painful electric shock".
A study conducted by S.A. Shumake at Denver Wildlife Research Center confirmed a decrease in food consumption where ultrasound devices were present.
IONIC
This unit has a very small Ionic Generator that is well known to assist in the reduction of odours and smells. The limitation with this component is that it will only work in a small area from where the unit is plugged into the wall.
---
With ever-increasing reports throughout Australia like below: it's no wonder that companies are trying safer, cleaner methods of controlling rodents.
 New breed of "super rats", immune to poison and too smart to get caught in traps has invaded Sydney, the Daily Telegraph reported. Australian Museum naturalist Martin Robinson said: "A lot of suburban rats have been baited for as long as Sydney has been settled, so many populations have become immune to those baits. One of the interesting things is that when they become immune to the bait, they can actually become addicted to it."  
Pestrol has advertised the Pestrol Rodent Free Australia wide on the radio for well over 8 years. In Sydney, a customer who bought through 2GB sent a letter to Alan Jones. (*Alan mistakenly mentioned the unit kills rodents. However, the unit repels and scare rats and mice away) The recording is below:
FREQUENTLY ASKED QUESTIONS
How many units of the Electronic Rodent Repeller do I require for my home/office?
For maximum effectiveness, it is recommended to have 1 unit per electrical circuit that is present in your dwelling. Often multi-story homeowners purchase 1 unit per floor.
How do I know if my Pestrol Rodent Free is working?
You may see increased activity as rodents and cockroaches are forced from their hiding places. Often it can take up to 3 weeks to remove rodents. Cockroaches may take longer as eggs can lay dormant for many months before they hatch. Pestrol Rodent Free has a full 100-day money-back guarantee, well and truly enough time to ensure you are happy with the results.
What happens if the lights stop flashing on the unit?
The Pestrol Rodent Free alternates the technologies so the rodents and cockroaches do not become immune. Therefore the unit switches on / off for maximum effectiveness.
Will the Pestrol Rodent Free affect my pets?
Pestrol Rodent Free has been used for many years by thousands of satisfied customers in Australia and NZ. It will not affect dogs, cats, birds, or fish as they have a different genetic structure to rodents and cockroaches. The ultrasonic sounds can in some cases be heard by cats and dogs. Pestrol Rodent Free cleverly allows the user to shut off the ultrasonic component of the unit, whilst keeping the electromagnetic technology running.
How long will the Pestrol Rodent Free last?
There are no moving parts in the electronic circuitry, we expect the unit to last up to approximately 10 years, and we also provide a 2-year manufacturer's warranty.
I have Rodents in my roof and wall cavities, do I need to plug the Pestrol Rodent Free in these locations?
No, providing you plug the Pestrol Rodent Free into any powerpoint, the electromagnetic technology will work through your electrical wiring that reaches into these cavities to repel Rodents from their hiding places.
Has the Pestrol Rodent Free been electrically tested?
Yes, the unit has passed all electrical testing. Will not affect any electrical equipment or WIFI products.
The unit has worked really well, however, I just spotted a rat or mouse; does that mean my unit has stopped working?
No, remember the first time you purchased the unit it can take up to 7-10 days to remove rats and mice from your dwelling. Rats and mice are always on the move and if you get a new infestation it can again take 7-10 days to get rid of the new intruders.
Does it matter what side of a double-sided wall socket I plug my Pestrol Rodent Free unit into?
According to our customer experience and advice that has been provided by electricians. The results are better if the unit is plugged into the left-hand side.
How much electricity does the Pestrol Rodent Free consume?
Pestrol Rodent Free costs the same as running an 8 watt light bulb, equating to cents per month to run.
Is the Pestrol Rodent Free effective against Possums?
Whilst this technology has not been associated with repelling Possums, many customers have experienced favourable results in driving Possums from their homes.