Magna Indoor Insect Trap – Black
Our Latest Release, the Magna Indoor Insect Trap – (Black) is more suited to larger rooms within your home. Ideal for Kitchens, dining or lounge areas. This is our updated version from our still current Magna Indoor Mosquito Trap.
The trap users a warm light to attract mosquitoes, midgies and moths from where they are sucked down into a removable and easy to clean storage chamber.
Features of the Magna Indoor Insect Trap include:
Improvements over the white Magna Indoor Mosquito Trap model include:
Significantly stronger internal LED globe that has a greater catching rate and lasts longer.
A stronger fan that ensures the insects cannot escape.
Mosquitoes prefer darker colours, that alone has increased the catch rate of this trap over the white model.
Intelligent Light Control: Automatically turns off during the day and turns on from Dusk til Dawn – when mosquitoes are most active.
Removable components. Very easy to clean and replace parts if ever necessary.
The use of a brushless motor; that means less noise and longevity. 25,000 hours while a brush motor generally works for about 1000 hours.
500Nm bulb, this bulb will last between 14,000-18,000 hours. While traditional tubes can last between 2500-3000 hours.
Non-toxic and harmless, chemical-free technology.
The bulb is positioned in a way for maximum efficiency, which means a greater area can be controlled and therefore increases capture rate.
Top air suction with a vertical air-duct. The movement of air is smooth yet strong, ensuring mosquitoes are caught and captured in our mosquito holding chamber.
Timer function, you can also set to work for 5h/8h/12h
Power adaptor – 1.2metres
Dimensions: Height 25cm – width 22cm – depth 13cm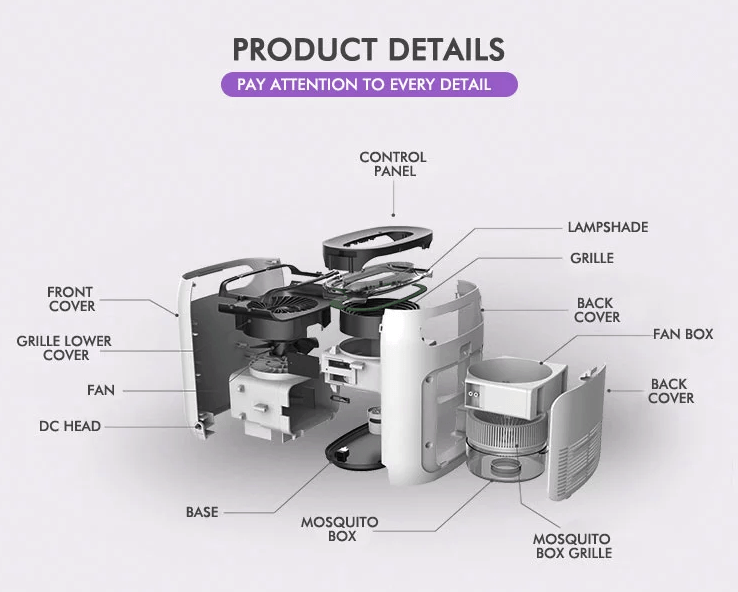 PRODUCT DISCLAIMER: Whilst the mosquito traps will catch and reduce the mosquito population in your area. Please be aware, unfortunately, there is no 100% full proof product on the market that will ensure that you don't get bitten. Every precaution should always be taken to prevent the risk of mosquito bites around the world.