What are the benefits of Pyrethrins?
Why should you use Pyrethrins for pest control?
What kinds of insects do Pyrethrins control?
Pyrethrins are derived from natural plant oils.  This oil is contained in oil glands that are located on the seed case of the flower head of a tanacetum cinerariaefolium also known as the pyrethrum daisy.  Pyrethrin is comprised of six chemical esters that work together as an insect repellent and toxin. This compound is separated from chrysanthemum flowers and mixed with other ingredients to form a commercial style pesticide.
These compounds have been used as pesticide products since the early 1950's.  Pyrethrins are widely used in today's pesticide products because they are considered safer than many of the now banned alternatives of yesterday.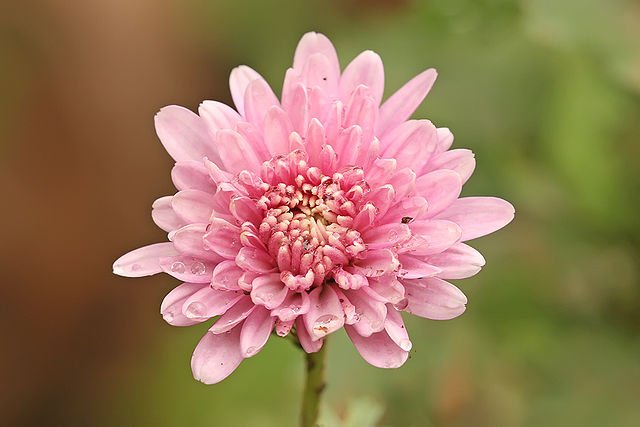 Image Source: http://en.wikipedia.org/wiki/Chrysanthemum By Muhammad Mahdi Karim via Wikimedia Commons
This natural and highly effective insecticide has been used for hundreds of years against many varieties of insects that are pests in gardens and in homes.   The combination of compounds in Pyrethrins forms a powerful and effective insecticide.  This product is relatively safe for humans and mammals because they are broken down quickly in the blood into harmless and inactive chemicals that are quickly passed through the body.
Pyrethrins are contact poisons which immediately affect the central nervous system of crawling and flying insects when they are used.  The chemicals contained in the insecticide work to block the nerve junctions of insects.  This causes their nervous impulses to fail and leads to death.  When used in small amounts, this insecticide can cause insects to avoid your home or garden and existing insects will flee the area too.  In great concentrations, Pyrethrin alters the behaviour patterns of insects, causing them to come out of hiding which can help to expose them to more concentrated quantities of the chemical compounds, killing them more quickly.
What are the benefits of Pyrethrins?
The fact that Pyrethrins are natural makes them extremely popular as a powerful insecticide.  These compounds are quickly broken down when exposed to sunlight so they do not linger in the environment or cause any kind of environmental damage.  Since these compounds are non-persistent and are complex in nature the build-up of a resistance by insects is not as likely to occur.
Why should you use Pyrethrins for pest control?
These compounds are safe for use around humans and animals and are one of the least toxic insecticides available.  If they are accidentally swallowed they are quickly broken down by the human body.  The compound is degraded by sunlight and air so this means that there will be little or no risk that is commonly associated with other types of insecticides.  Pyrethrin is more effective than any other insecticide for flushing pests from where they are hiding.  It forces pests to expose themselves to the compound, eliminating them in the process.  Pyrethrin attacks the nervous system of insects which causes immediate knockout, followed quickly by death.  One of the best reasons to use this type of an insecticide is that insects cannot build up resistance to it because the molecular structure is extremely complex.
Pyrethrin is made up of a collective of compounds that are related.  This creates a wider spectrum of activity against more species of insects than a single insecticide.  This makes it useful to be used against a wider range of insects that are common in homes and in gardens.  With many more toxic insecticides being banned because they are dangerous, Pyrethins are a powerful and effective choice.  They are much better for sensitive applications where insects need to be eradicated around food sources.  These compounds are perfect for use on farms where used indoors.  If they are used outside they are not as effective because they tend to break down too quickly.
What kinds of insects do Pyrethrins control?
This insecticide is extremely effective for controlling most insects including moths, flies, aphids, gnats, wasps, fleas, ants, cockroaches and mosquitoes.  It works to inhibit the instinctive biting behaviour of a female mosquito which prevents them from obtaining the blood meals they need to lay their eggs and reproduce.  Many of these insects including ants and cockroaches are notorious for being difficult to find.  When Pyrethrins are used they tend to draw these insects out from their hiding spots making the product much more effective and eliminating these insects more easily.
How are Pyrethrins used?
This insecticide compound is generally used in a spray-type application.  The product can be misted around baseboards and doorways and in any area where insects are known to be gathering.  If there is quite a large infestation, several applications may be needed.  The product is effective and works well when you need to use it in your home too.  If you have small children or pets it is a good idea to apply the product that you plan to use and then vacate the house for several hours to be on the safe side.
Pestrol pest control dispenser products contain natural pyrethrins: https://www.pestrol.com.au/
Reference: http://en.wikipedia.org/wiki/Chrysanthemum онлайн займ на карту maestroвзять займ онлайн без процентовзайм 25000