Skulk Hooded Jacket 2.5mm – Shark Eyes
The Skulk Hooded Jacket 2.5mm – Shark Eyes is made of limestone-based neoprene. Using the latest tech, Shark eyes has created a premium material that offers great comfort, versatility, flexibility and warmth. Use this jacket to surf, spear, dive or for any other water sports. Made to be ideal for moderate weather days, this jacket can be worn to provide you with great protection from nature's elements. Ideal for any activity in the ocean! One of the products in Shark Eyes' collection, this jacket offers ultimate comfort with reinforced triple glued and blind stitched seams that do not let any water in and will not unravel.
One of the warmest materials on the market, they will keep you as warm and as dry as you can be in the ocean. These high-quality products are soft to the touch.
Please note: suits come with blue zippers as pictured below and not black zippers.
Sizing: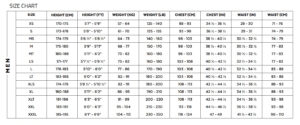 The suits are true to size however if you are doubtful, make sure to size up.
Exchanges:
If the size does not fit, we are happy to exchange it for a bigger size as long as the suit has only been tried on and not worn and has the tags still attached.
Features:
Sik Dots – Grip dots that make the suit nonslip and prevent abrasions and pilling.
Loading Pad – made with heavy density foam that is durable and high impact. 150mmx120mm.
GBS – All seams of this jacket are triple glued and blind stitched. A special technique that ensures that the jacket is well-sealed, airtight and will not unravel.
Shark Mitigation (Repulsion) – Located in the back are eyes that are visual deterrents for sharks. Inspired by nature.
Boardshort Connector – A connector that can be used to secure the jacket well.
Glideskin Facial Seal – This awesome function provides an extra-tight water seal around your face to prevent water from entering. Great for training.
Available in:
Have a look at our other Shark Repellents.