Where can bird netting be used?
What colours does bird netting come in?
How is bird netting installed?
Why are birds such a problem?
Bird netting is a great way to restrict access to an area, specifically so that birds and even small insects can't get through. Birds are considered pests and they can be especially troublesome when they build nests in your roof, gutters, fences, or other hazardous areas. Many homeowners have even had bird nests within the walls of their home.
Every year homeowners continue spending hundreds of thousands of dollars paying for cleanup and repair services thanks to the work done by pest birds.
On a more frightening note, birds are known to carry over 60 transmittable diseases and having these pests within your home is very ill-advised. There are concerns for sanitation and health, which could lead to a lawsuit if the birds happened to cause an accident. Often, business owners are forced to install bird netting because of the continuous problems that these pests cause with their customers. Bird faeces and debris also creates a very bad image for the home, business, or complex.
Where can bird netting be used?
Bird netting is highly versatile and it can be installed anywhere that you are capable of accessing. The netting will simply need to be anchored down in various locations so that it's positioned overhead, but high enough to not be a distraction. Common places include rooftops – to restrict access from above, in backyards, warehouses, overhangs, and enclosed areas.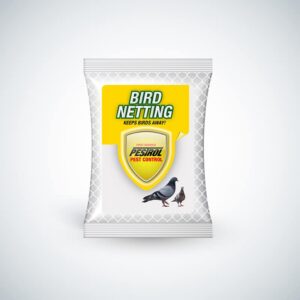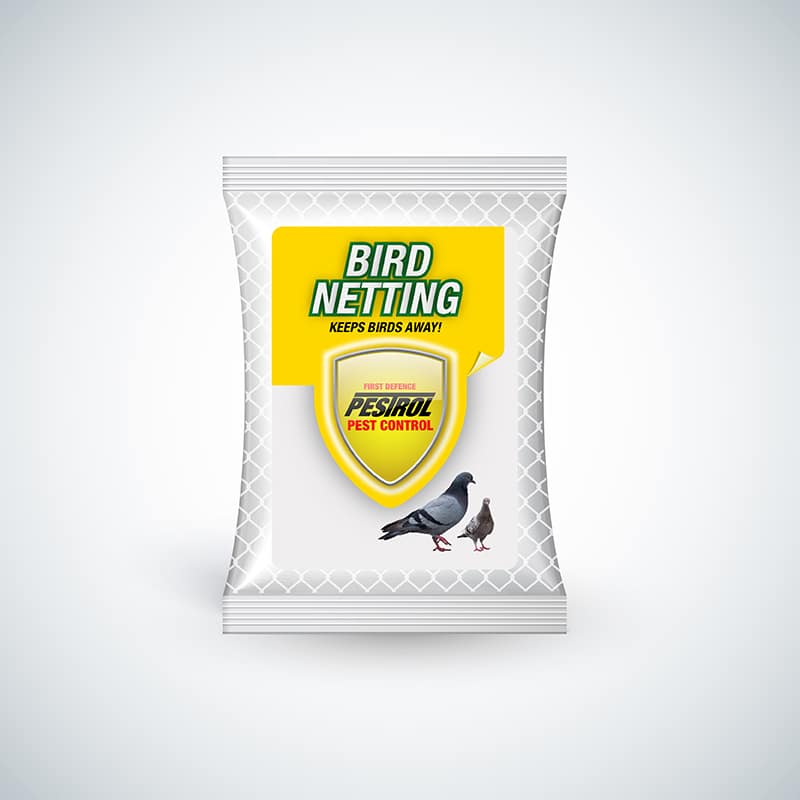 Netting is one of the best bird control solutions available. Since birds are capable of flying around and bypassing virtually everything else, a net is the only solution that remains cost-effective and easy to install. Bird netting will completely eliminate the presence of birds and will be a long-term solution to the issue. If you're having a difficult time keeping these pests away, it's important that you act quickly before the problem escalates into something more serious. Birds can reproduce at a rapid rate and begin to cause issues quickly.
What colours does bird netting come in?
Bird netting is available in many colours including stone grey, black, and white as the most common. The netting that you choose is entirely up to you as the colour will not change its effectiveness, only its appearance. You should try to choose a colour that blends well with the environment and won't serve as a distraction. Generally, black bird netting is ideal because it's difficult to see unless you look closely.
How is bird netting installed?
Bird netting can be installed differently depending on the environment and the architecture around it. Commercial bird netting installations are typically more difficult than installing bird netting at a home. The roof and other areas of the home can be used to anchor the net, but commercial settings generally don't have a roof overhead with such easy access. Lifts and power equipment may be necessary in these scenarios.
Bird netting is sometimes used in gardens to protect fruits and vegetables from birds, which commonly swoop down to feast and then fly away again. You typically don't have to hang the bird netting above the plants, you can simply rest it on top and this will work just as effectively. The birds are not able to eat the fruits or vegetables through a netting and will get discouraged and fly away. However, if you'd prefer not to have to remove the netting every time you want to access the garden, then an overhead netting is the better option for you. This would allow you to walk freely through the garden. It's important to protect your fruit trees and edible plants as fruits and vegetables can be very expensive in grocery stores today.
Why are birds such a problem?
If you're still wondering what the big deal is with having a few birds overhead, the main issue is in sanitation and health hazards. Birds are known scavengers and will eat just about anything. Not to mention, bird faeces can come from any direction with their overhead flight patterns. Keeping birds away during an event or out of an enclosed area can be important. Bird netting is one of the only options that remains difficult to be seen, is affordable and works 100% perfectly.
Take a look at our bird netting. частный займ челябинскзайм до 100 тысяч на картубыстрый займ на карту маэстро