EXPERIENCE OCEAN FREEDOM WITH THE SHARK OFF™️ THE RIO SUNRISE SHARK REPELLENT!
For those passionate about water sports and active lifestyles, The Rio Sunrise Shark Repellent is your ultimate companion. Designed to offer superior performance, it's a breeze to put on, especially for the little ones, this shark repellent is a game-changer for ocean enthusiasts and beach lovers.
Designed for the Active Beachgoer
The Shark OFF™️ Shark Repellent is tailor-made for those who lead an active beach lifestyle. Whether you're catching waves, swimming, or just having fun in the water, it's got your back. It was handcrafted with real Velcro to ensure it stays firmly in place, allowing you to enjoy your water activities without worry.
A Hassle-Free Experience
Struggling with complicated fastenings is a thing of the past. Putting on and taking off The Shark OFF™️ is as easy as a day at the beach. Say goodbye to the fuss and hello to the fun!
How Shark OFF™️ was born?
Let's start from the beginning… Shark OFF™️ was born in bed. No, it's not a bad joke. The founders of Shark OFF™️, Shea & Geoff Geist, were in bed watching TV one night. Along came a PBS NOVA program (yup, that's a plug for public TV) called Hunting The Elements – kryptonite for Sharks. David Pogue of NOVA interviewed one of the scientists who discovered the technology used in Shark OFF™️.
During a conversation between David and Dr. Patrick Rice about the shark-repelling properties of rare earth elements, the team were astounded. The fact that this groundbreaking technology wasn't already available in beach shops everywhere baffled them.
They found that this research was dedicated to the reduction of shark bycatch in commercial fishing and not as a deterrent against human interaction. Inspired by Shea's debilitating fear of the ocean and the vision of this unmet need, they dived in to bring this amazing technology to beachgoers around the world. 
How Does it Work? – It's kryptonite for sharks!
You may have heard that sharks can smell blood from long distances, which is true, but did you also know that they can sense the most minute electrical impulses? Using sensors called the ampullae of Lorenzini (elasmobranchs like sharks and rays have them), they can pick up ridiculously tiny electric signals. 5/1,000,000,000ths of a volt in fact (yes, that's billionths). This sense is so fine that sharks can detect the heartbeat of another fish. Scientists suspect the ampullae of Lorenzini may be used for hunting – finding other fish in distress, or murky waters, or even hiding under sand.
Shark OFF™️ turns those very senses against the shark – and over-stimulates them. While a super low voltage field (like the rapidly beating heart of an injured fish) may attract sharks, Shark OFF's higher voltage field repels them. Their patented active element gives off enough voltage to make the shark jerk away from it. The proprietary alloy that makes up the active element emits an electric field in water of about 1.5 volts – billions of times stronger (literally) than what the shark's ampullae of Lorenzini can feel. The effect on the sharks is blinding – but you don't feel a thing.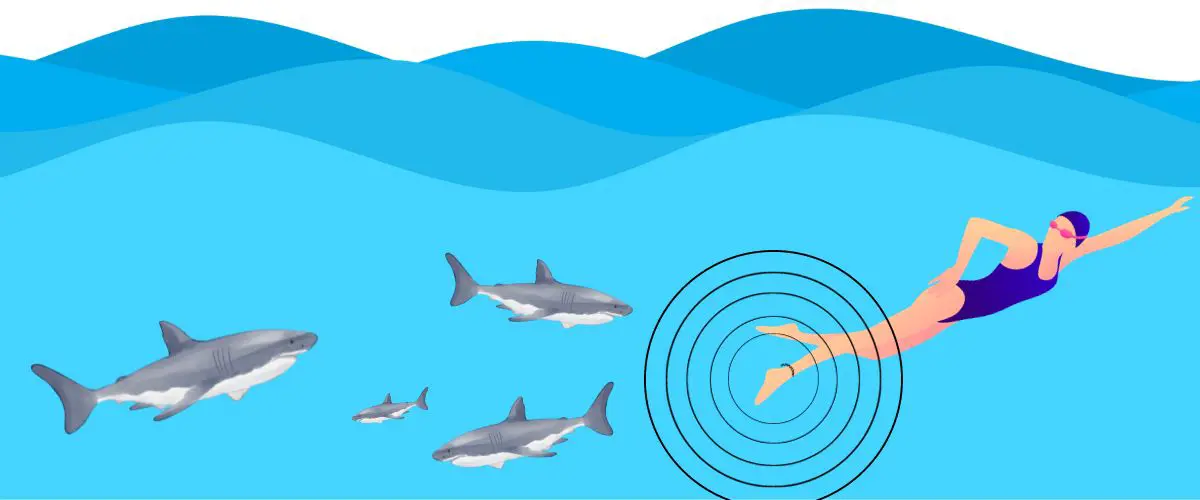 Note: Remember, this is shark repellent, meaning it's just like other precautions you take when visiting the beach. If you see a shark, calmly and immediately leave the water. That's the only way to GUARANTEE that you won't get bitten
How Should I Wear Shark OFF™️?
If you have only one bracelet, start with your ankle. Seventy per cent of shark bites occur on the lower extremities. If you have two, then wear the other one on your opposite wrist. Customize the fit to your liking. Trim the Velcro to fit you, leaving an extra 1/2 inch for easy on and off. Use the silicone loop to secure the Velcro layers together, just like fastening a watch.
After your day of ocean adventures, be sure to rinse your Shark OFF™️ thoroughly with clear water. Then, let it air dry. Remember, no plastic bags or containers, especially when they are wet
How do I take care of my Shark OFF™️?
Shark OFF's active elements dissolve slowly in water. And the wood beads and leather are all-natural, so exposure to salt water will dry them out. The best way to care for your Shark-OFF™️ bracelet is to wear it constantly. Even in the shower or when you wash your hands. Rinsing the salt water off will help it last longer and the natural oils from your skin are good for the leather and beads. If you don't want to wear it all the time, then just rinse it with fresh water, pat it dry and store someplace that it will stay dry. Don't store it damp in a plastic bag.
Your Shark OFF™️ should last you about 200+ hours IN THE WATER, if you take good care of it. What does "take good care of it" mean? When you are done for the day, rinse your Shark OFF™️ and let it dry. Or wear it all the time! 
Does  Shark OFF™️ Hurt Sharks?
Their rare earth metals (not magnetic) hydrolyze (dissolve in water and release hydrogen atoms) to create the electrical field that repels sharks. Their patented active element is strong enough to make the shark jerk away without harming them.
With Shark OFF™️, you can leave your shark concerns behind and fully embrace the joys of the ocean. Dive into the waves and enjoy a carefree beach day!
Disclaimer: While this shark deterrent is designed to effectively deter sharks and reduce the risk of shark encounters, it is essential to understand that no product can provide an absolute guarantee of safety in shark-prone areas. The effectiveness of this shark deterrent may vary depending on various factors, including shark species, their behaviour, and environmental conditions. Users should always exercise caution, adhere to recommended safety guidelines, and stay informed about local shark activity. Remember that there are no guarantees that a shark will not pose a threat to your safety. Use this product as an additional layer of protection, but do not rely solely on it for your safety in shark-inhabited waters.
Product Specification
Materials: Velcro, Active Elements and Paracord
Age Group: Senior, Adult, Toddler, Tween, Child and Teen
Reusable: Lasts for over 200 hours in the water.
Fit: Specifically designed to fit everyone's ankle/wrist from 17 to 44 cm
Please have a look at our other Shark Repellents.