Dust Mite Mattress Protector – 100% Cotton: Certified Protection Against Allergens and Bed Bugs
Discover the mattress protector recommended by over 100 specialists across Australia for its proven efficacy in safeguarding against dust mites, bed bugs, spills, scabies, and pet dander.
Advanced Pore Protection
Micron-Level Defense
With a pore size of less than two microns, this mattress encasement acts as an impenetrable barrier, preventing allergens from entering or escaping your mattress.
Bug-Killing Encasement
Not only does it stop allergens, but it also eliminates dust mites, bed bugs, and their eggs by cutting off their access to a food source, ensuring a healthier sleep environment.
Wear, Tear, and Stain Defense
Beyond allergen protection, this encasement shields your mattress from wear, tear, and stains, enhancing its lifespan.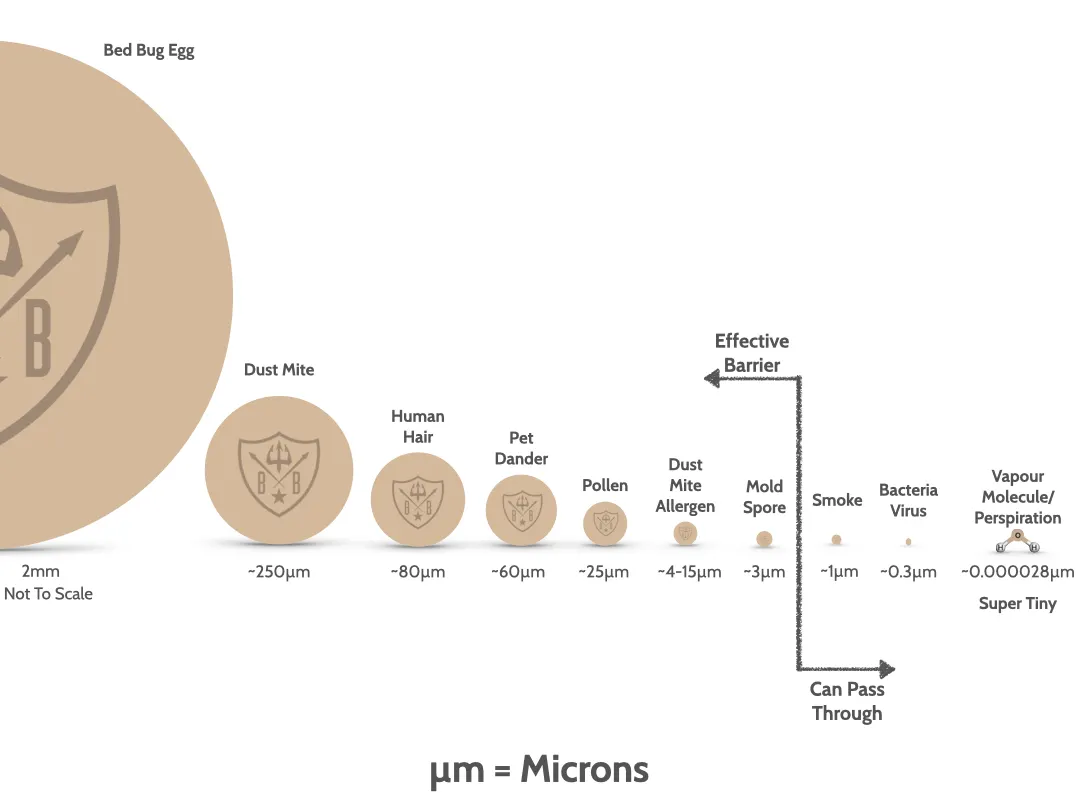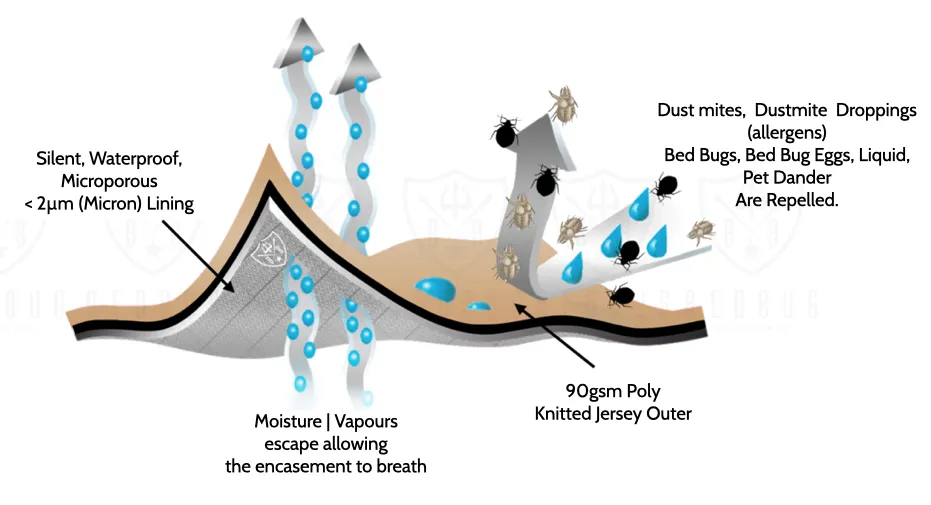 Commercial-Quality Construction
Premium Materials
Crafted from 90gsm polyester knitted jersey fabric (outer) and a 0.2mm TPU waterproof lining, this mattress protector combines comfort, durability, and waterproof functionality.
Hypoallergenic Comfort
The micro-porous TPU lining creates a hypoallergenic surface that is soft, cool, and waterproof, ensuring a comfortable and healthy sleep.
Key Benefits
Tightly stitched binding seams.
Suitable for residential and commercial use.
Prevent dust mite bedding infestation.
Waterproof, suitable for incontinence.
Easy to install.
Protects new bedding.
Salvages infested bedding.
Use with an electric blanket.
Hypoallergenic.
Machine washable.
Bug flap/zipper.
Chemical and pesticide-free.
Easy Installation and Maintenance
Easy Installation and Maintenance
Seamless Integration
Tightly stitched binding seams, bug flap/zipper, and a machine-washable design make installation and maintenance a breeze.
Versatile Use
Suitable for both residential and commercial settings, this protector prevents dust mite infestation, is waterproof for incontinence protection, and even works seamlessly with electric blankets.

Care and Washing Instructions
Follow the care guidelines to ensure optimal performance. Wash or steam the encasement every 3 to 6 months when used with a weekly-washed mattress protector. Avoid exposure to bleach, excessive heat, natural oils and body oil. Do not iron. If you are unsure of your washer or dryer temperatures, hand washing and line drying are suggested.

Ensemble Base or Box Spring Compatibility
Transforming your bedding for an ensemble base or box spring is a breeze with our mattress encasement. Follow these simple steps to make the most out of your bedding defence:
Prepare Your Base: Remove the legs or wheels for easy access.
Encase with Ease: Slide the encasement over the base and zip it up securely.
Create Leg Openings: Make a small incision where each leg hole is located using a sharp knife or scissors.
Secure and Seal: Insert the screw/bolt from the leg or wheel through the incision and tighten it firmly. This seals the encasement to the base between the leg and the baseboard.
Repeat for Each Leg or Wheel: Perform the same process for each leg or wheel.
Always follow the instructions carefully to ensure your base, protector, or cover functions optimally.
Product Size Specification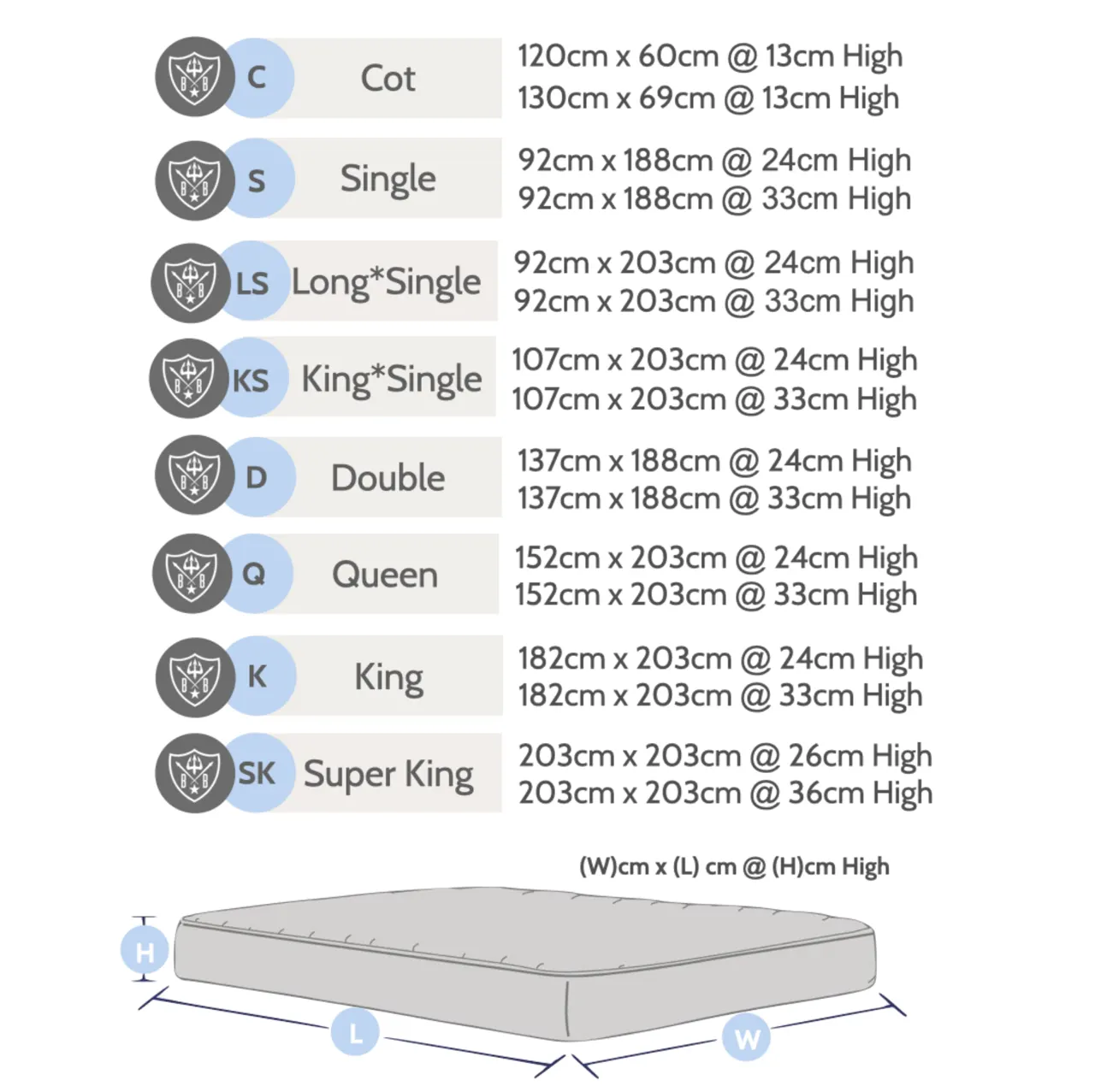 Please Note: The cover will stretch 4 to 5cm in any direction and fit all mattresses sold in Australia. If your mattress is between 24 to 27cm in height, then either size will fit – however, the 24cm size is suggested for the best fit.
Invest in a healthier sleep with our Dust Mite Mattress Protector — a shield against allergens and bed bugs for a comfortable and protected night's rest.
Pestrol provides a range of solutions for all your pests solutions, Please visit our Shop By Pest to view the range!