Pestrol Air Purifier
When creating a healthy indoor environment, a Pestrol Air Purifier is your essential piece of equipment. Our Air purifier helps to remove pollens, pet hairs, dander, smoke, dust, and odours from the air, making it easier to breathe and reducing the risk of allergies and respiratory problems. In addition, air purifiers can help to reduce the level of airborne contaminants in your home, making it safer for everyone.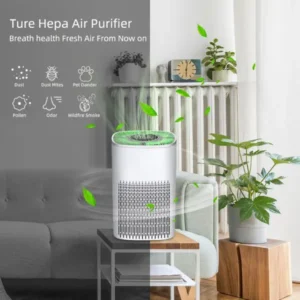 Specifications:
Dimensions: 205mm x 205mm x 340mm.
Covers up to 36 square meters
Noise: 30dB – 65dB
Power supply: AC 100-240V 50/60Hz
Actual power: 22W
Pestrol Air Purifier has AI intelligent control that allows you to operate your air purifier remotely, making it easier to keep your home's air clean and fresh. With the real-time intelligent operation, you can be sure that your air purifier is always working to provide you with the best possible indoor air quality.
The carbon filter helps to neutralize common household odours from cooking, fumes, smoke, pets, and other unwanted household scents. So why wait? Get an air purifier for your home today and breathe easy, knowing that you're doing everything possible to create a healthy indoor environment.

Package Contents:
1 x Purifier
1 x Adapter
1 x User manual
Check out other products from our Home & Garden Range.